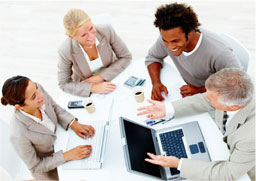 Information Technology is one of the fastest growing industries globally. It is also one of the richest and most dynamic. Work worldwide is changing because of technology. Businesses have now realized that the secret to survival is dependent on 2 key drivers: Access to technology and access to skilled labor. To meet the demands of this rapidly growing industry, IT training providers will need to be constantly in tune with the latest trends. The IT training industry has emerged as a mature industry with a market that is demanding but growing.

Thus, investing in an IT training business is a sound proposition. And who better to partner with than APTECH LEARNING, the pioneer in the field? APTECH is the pioneer in franchising in education. Our growth is the result of our partnership with hundreds of dynamic business partners in many part of the world and in Pakistan
Why Invest with APTECH
Franchise Model gives individuals the opportunity to go into business for themselves with an excellent chance of success at a minimum of risk. Starting a new business from scratch is inherently risky. Most studies conclude that over 90% fail within 3 to 5 years. In comparison, U.S. Dept of Commerce studies have shown that over 92% of franchised businesses are still operating after 5 years.
APTECH already has more than 2500 satisfied business partners across the globe. Those who have associated with us have grown and prospered.
Our franchise owners have opportunity to access more than three decade of business experience and a proven business model and can offer a product/ service that have been well accepted in many markets and a brand name that people are already familiar with. The operation and control of your business has already been well established, assisting you in running the business.
Under Individual Training, Aptech offers career and professional training through its Aptech Computer Education brand.
Support To Franchise
How we support our Franchise?
Franchisee Support Office (FSO) Pakistan is extending its support to its business partners in following areas:
Active support & guidance for center start-up includes

Site selection.
Center layout planning. APTECH helps in charting out areas such as the reception desk, counselors' station, computer labs, classrooms, etc.
Recruitment (of staff, faculty, etc.) support.
Center automation support. APTECH has developed its own customized software for smooth running of the operations of the centers. This enables each center to manage all invoicing & operations online. At the time of start-up of new center, APTECH helps install this system & guides the center's staff on using it.
Support in marketing launch of the center.
Placement support for students.
Course design & delivery support
The Institute has three decade of experience in developing the most appropriate, updated course material. APTECH develops its own curriculum for all courses. This is done by the Institute's special content development team called APTECH Learning Services.
Courses are designed after extensive industry & market research, ensuring healthy demand among students & engineering aspirants.
Access to latest technology. APTECH teaches the latest technology as it is launched. The Institute helps train the franchisees' faculty on the new software.
APTECH provides teaching aids to train faculty to conduct the course in the best possible manner.
Marketing support
Marketing & advertising campaigns for press, TV, Internet, outdoor & radio are developed and run by APTECH. The Institute also provides designs for advertising material such as banners, posters, signboards, etc. for use by the centers.
Regular performance reviews & training sessions are conducted for staff of the business partner.
Student scholarships & other schemes are run from time to time to give a boost to business.
Advertising & brand development initiatives through various Internet-based & traditional press & outdoor advertising.
Ongoing advice to the center on how to improve business as well as taking inputs on market & strategy from the centers.
Academic & technical support
Timely faculty evaluations help the center identify those faculty members who need training.
Faculty training & exams leading to certification are conducted, ensuring that the center has faculty with the right skills to provide proper training to students.
Day-to-day support on how to deliver i.e. conduct the courses.
Conduct of online exams & issuing certificates to students.
Exam invigilation.
Central logistics support
Marketing & promotional material such as banners, posters are also centrally printed if required and sent to the centers.
Students' transcripts & final certificates are also printed and dispatched.
Business development support
From time to time, APTECH also conducts marketing activity that generates inquiry from students interested in taking courses. The Institute also runs a call center for handling student inquiry. All these inquiry are passed on to the center.
Placement support
Full-fledged Placements Team dedicated to finding appropriate job openings for trained students across all centers.
Conducts job-oriented training workshops for students, increasing visibility of brand & credibility of the center.
Organizes industry visits to familiarize students with job roles & opportunities & to build their industry contacts.
Sources job opportunities for students.
Identifies internship opportunities for students in IT companies.
Conducts training programs for center's own placement executives, if any.